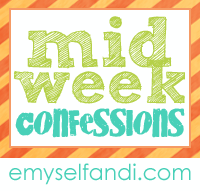 Thought I'd link up with E today for some Midweek Confessions.
It's been awhile since I've been to Confession. Okay, actually it's been my whole life, having been Protestant since about age 3...but whatever. Confession is good for the soul, right?
-Mother's Day is less than a month away and I am dreading it with my whole heart, mind, and soul. I think I am dreading it more than any other year, which is hard to imagine.
I am already planning on skipping church and hiding under the covers, away from the internet all day. So much for being optimistic, right?
-I have commitment issues when it comes to
planning our vacation
. Even though we've decided
where we want to go
, I just can't pull the trigger (aka hit "MAKE MY RESERVATION!" and provide them with my credit card number). It's a combination of "but what if there's a better deal later?" and "are we totally stupid to be spending a bunch of money on a vacation? Should we be saving that money? Do poor people like us deserve nice vacations, even though we've saved the money for it?" I know. I have issues. But that's what Confession is for, right?!
-I love Instagram, but I am starting to think my life is totally un-photo-worthy. If I try to maintain my commitment to not post ONLY pictures of my dog and flowers, I find myself with very little to post. I think next month I'll do one of those photo-a-day thingies to help me get outside the flower-and-dog-filled-box.
-Sometimes blog-related paranoia overcomes me. Like last week when I was really
snarky and condescending
about that horrible feeding tube diet? I spent the next 24 hours stressing out about "what if someone on that diet SEES my blog? What if the girl whose picture I snagged sees it?!!? She will be so sad!" and then I try to rationalize things by being like "look, EVERYONE on the internet was bashing that thing/girl. Huffington Post ran a piece. Every major news outlet. It's not like my blog is the solitary source of negativity out there." But even still, I stressed. Is that stupid?
-Ever so often...more often, lately...I'm still overcome with the desire to just go somewhere. Maybe the
Middle East, still
. Maybe somewhere else. Somewhere awesome. Just somewhere. I don't know.
Well, that's enough Confessing for one day. Time to go to Zumba!