Guess what?? Today's the day!!
My very first guest blog ever is posted over at E, Myself, and I!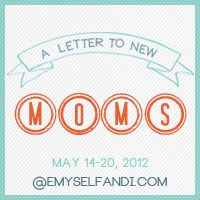 Want to know an interesting (and completely un-related to anything) factoid? E and I got married on the EXACT SAME DAY. June 30, 2007. Is that cool or what? Just one of many reasons we're such good blog-buddies.
Anyways. So now it's time for you to head on over to her blog and act all supportive while I pour my heart out. It'll be fun for all, I promise!
Click here to read my Letter to New Moms.