Well, it's That Day again. Actually, I'm doing better than I would have thought. Maybe because I've really felt a lot of love and support from friends over the last few days (cards, texts, emails, etc.). Maybe it's the grace of God. Maybe it's because it's still early, haha. But I am happy to report that I have not yet cried (today), so…thankful for small victories, right?!
As anti-MD as I may be, I would be totally remiss to not recognize the love and dedication of my own two mothers.
Both my mom and my mother-in-law (Mama Pat) are amazing and wonderful women and mothers, and I am so thankful for both of them in my life. When the day finally comes and I get to join the ranks of motherhood, I will be so thankful for the presence and wisdom of Mom and Mama Pat! Their love and support are priceless to me, especially these past few (sucky) years.
Speaking of sucky… (do grownups even use that word? Other than me, of course?)
Yesterday my bestie
Amanda
found that her recent shots/scans/more shots/supplements/IUI x2 cycle failed. Or as she put it, she started a $$$$$ period. I am brokenhearted for my friend…and such great timing, no? Truly, infertility knows no bounds of cruelty. MD is always hard when you're battling infertility…but how much more so when the DAY BEFORE, you found out that your very lengthy, very scientific, very involved, very expensive, all-in fertility cycle failed? I am so sad (and angry, let's be honest) for her…and if there were any justice in the world (well, we would both have toddlers, but let's not dream THAT big…) I would be in Texas with her right now, buying her Blizzards and margaritas and keeping all pregnant women, small children, and insensitive jerks out of her line of sight…but alas, I am stuck in rainy Georgia. But my heart is with her. Take a minute and pray for her if you get a chance, please.
Finally, a few MD or parenting-related food-for-thought articles/blogs I've come across the last few days. And by "come across," I obviously mean someone posted them on Facebook or retweeted them on Twitter. I don't actually come across meaningful things on my own…I just copy others! But these are really good, so you should read them.
Finally—this upcoming week, one of my favorite bloggers, E, Myself, and I, is going to be doing a special series called Letters to New Moms.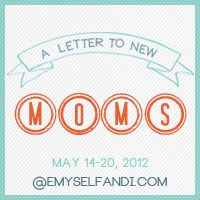 Each day will feature a different guest blogger…not sayin' anything here, but…you might want to check it out! Who knows, there could be some REALLY AWESOME guest bloggers that you just might recognize!! Of course, if there were to be anyone you knew blogging there, I would probably give you a heads-up when the day came. But check it out every day anyway!
I think that's enough for now. Happy MD, all ye mothers of the world. But more importantly—to all my friends who are NOT mothers yet, though not for lack of trying—I love yall. You are in my thoughts and prayers today and every day. Thanks for being my soul sisters in a pretty crappy situation. I wish none of us were stuck in this place in life, but as long as we are…I'm glad we have each other.